Nothing exemplifies a framework like a few good examples. Since the book Building a StoryBrand was released in 2017, business owners and leaders have been clamoring for inspiration as to how they can
implement the framework on their websites
and other marketing collateral.
The StoryBrand framework, as it relates to your website, consists of 7-10 basic content blocks.
The Header/Hero
The Stakes
The Value Proposition
The Guide
The Plan
Explanatory Paragraph
Video
Price Choices
Lead Generator
Junk Drawer
In this post, we're going to look at several StoryBrand websites examples and highlight a specific part of the framework using each website.
Let's jump in.
Header/Hero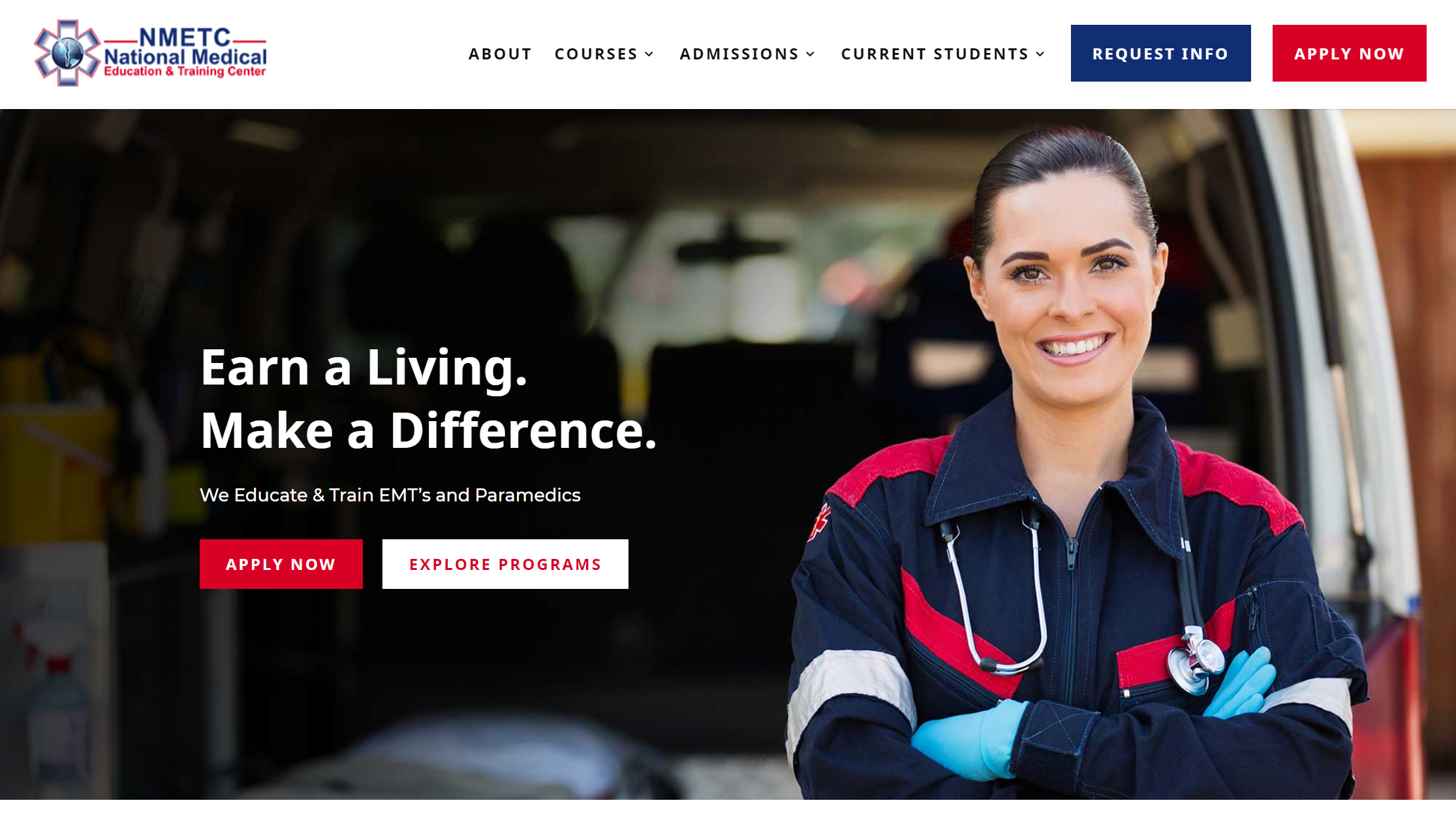 This example comes from the National Medical Education and Training Center. Your header/hero section is arguably the most valuable section of your website. It's the first thing users see when they land on your site.
To have a stellar header/hero section, you'll want to include a few things:
Clear calls-to-action in the upper right-hand corner and the center of the page
Preferably, an image of a happy and smiling person (ideally someone from your target market)
Customer-focused copy that answers these three questions: what you do, what you offer, and how it can make the customer's life better
If you put all these elements together, you'll have a header/hero section that is just as awesome as NMETC's.
Stakes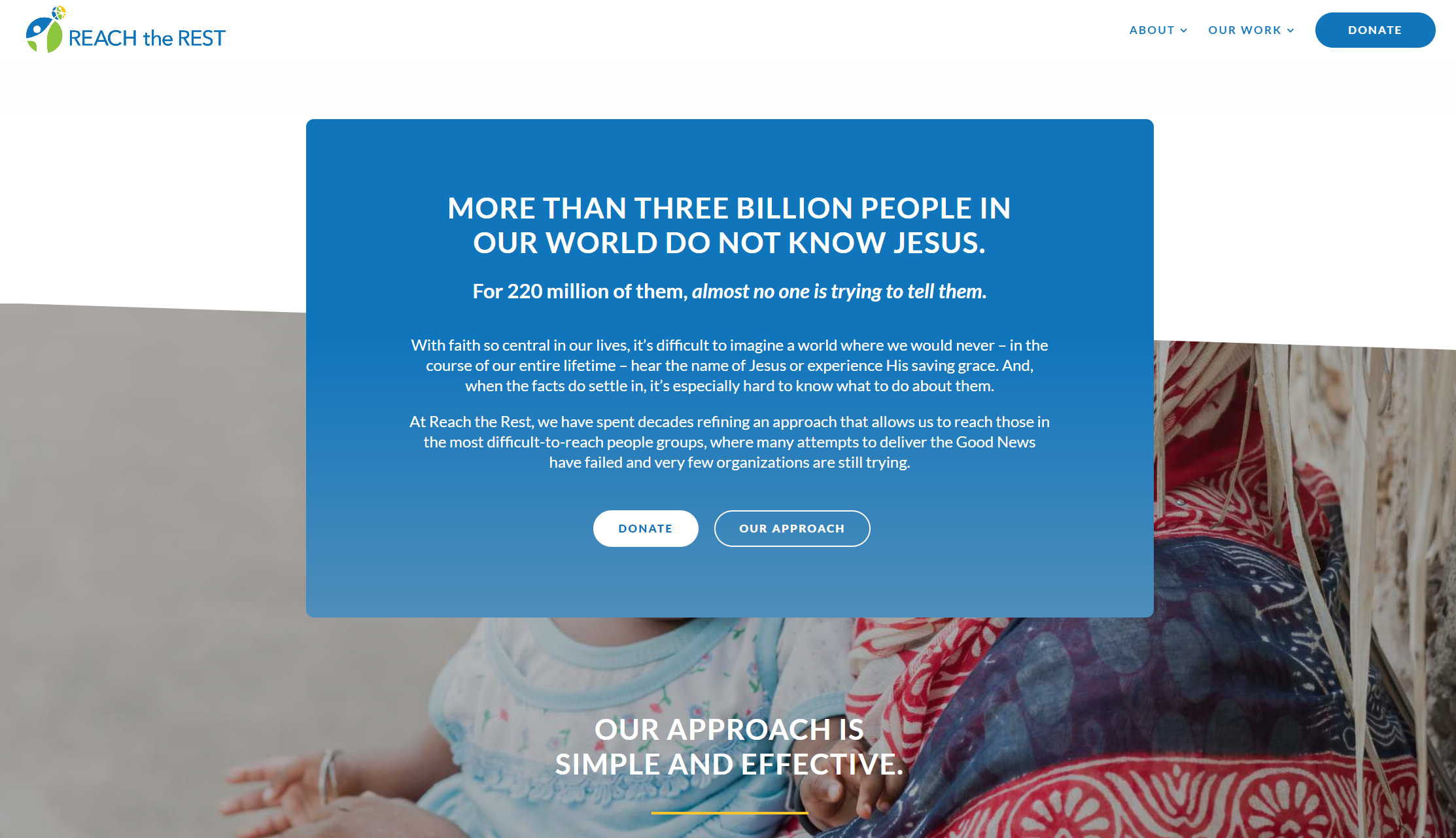 This example comes to us from Reach the Rest, a gospel-oriented non-profit. The stakes section is arguably the second most critical aspect of your StoryBrand website. This is where you let customers know the cost of not doing business with you.
In other words, how much money are they losing out on by not engaging with your business?
The stakes are like salt in a recipe, add only a little to enhance the flavor. But we do want to include stakes because that introduces the concept of conflict into the brand story. Without it, customers have no reason to buy from you.
Value Proposition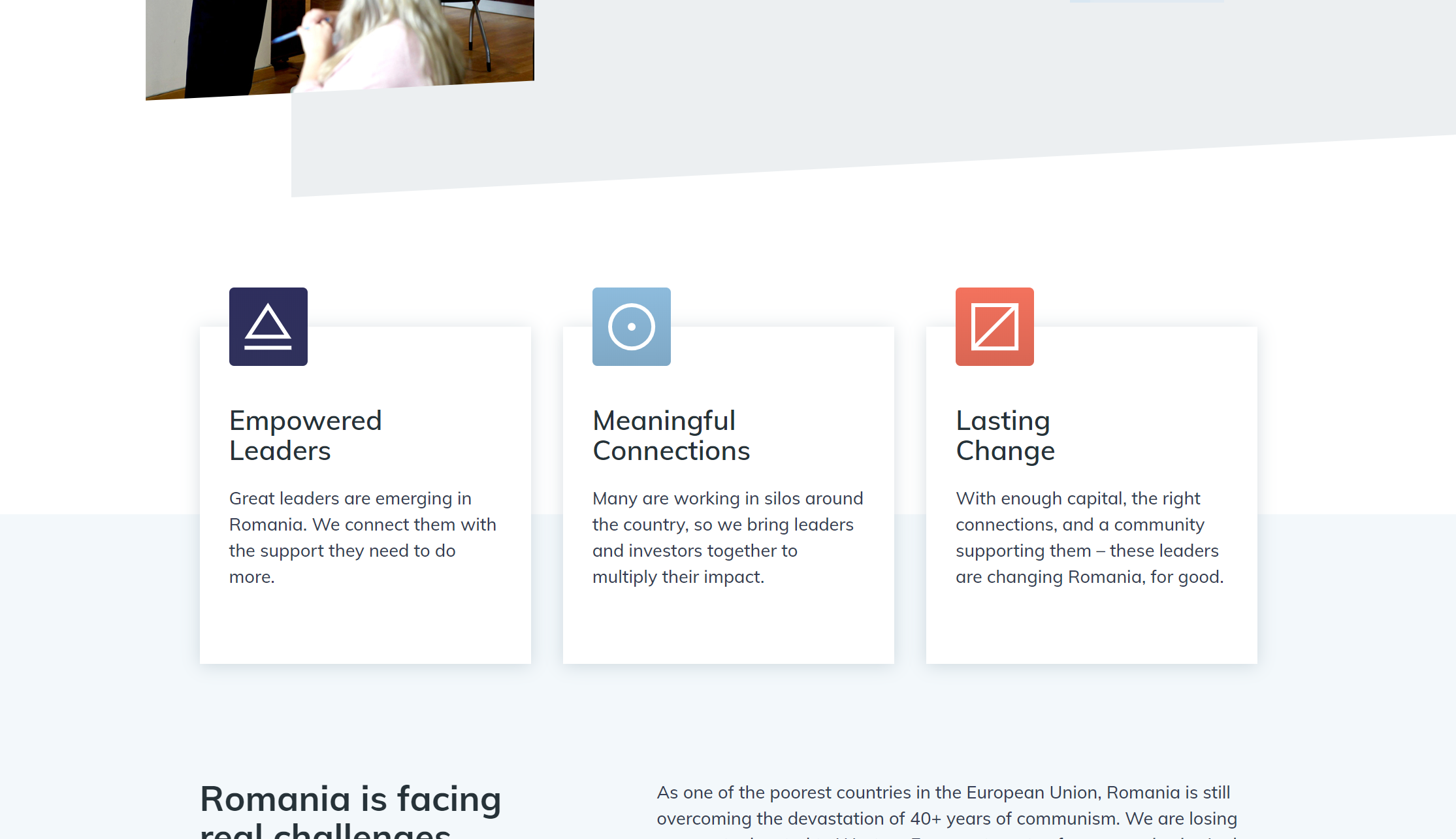 This example comes from one of our friends Good Bureau. Once we have shaken things up a bit with the stakes, then we can begin to position our product/service as the solution to the conflict the customer is facing.
Again, just like with the stakes section, a little bit goes a long way. We recommend displaying your business' value in three short paragraphs with icons. This is referred to as a "value-stack".
Communicate your business' value through short, scannable paragraphs with eye-catching icons and your customers will immediately be able to see how your product/service can fit into their lives.
The Guide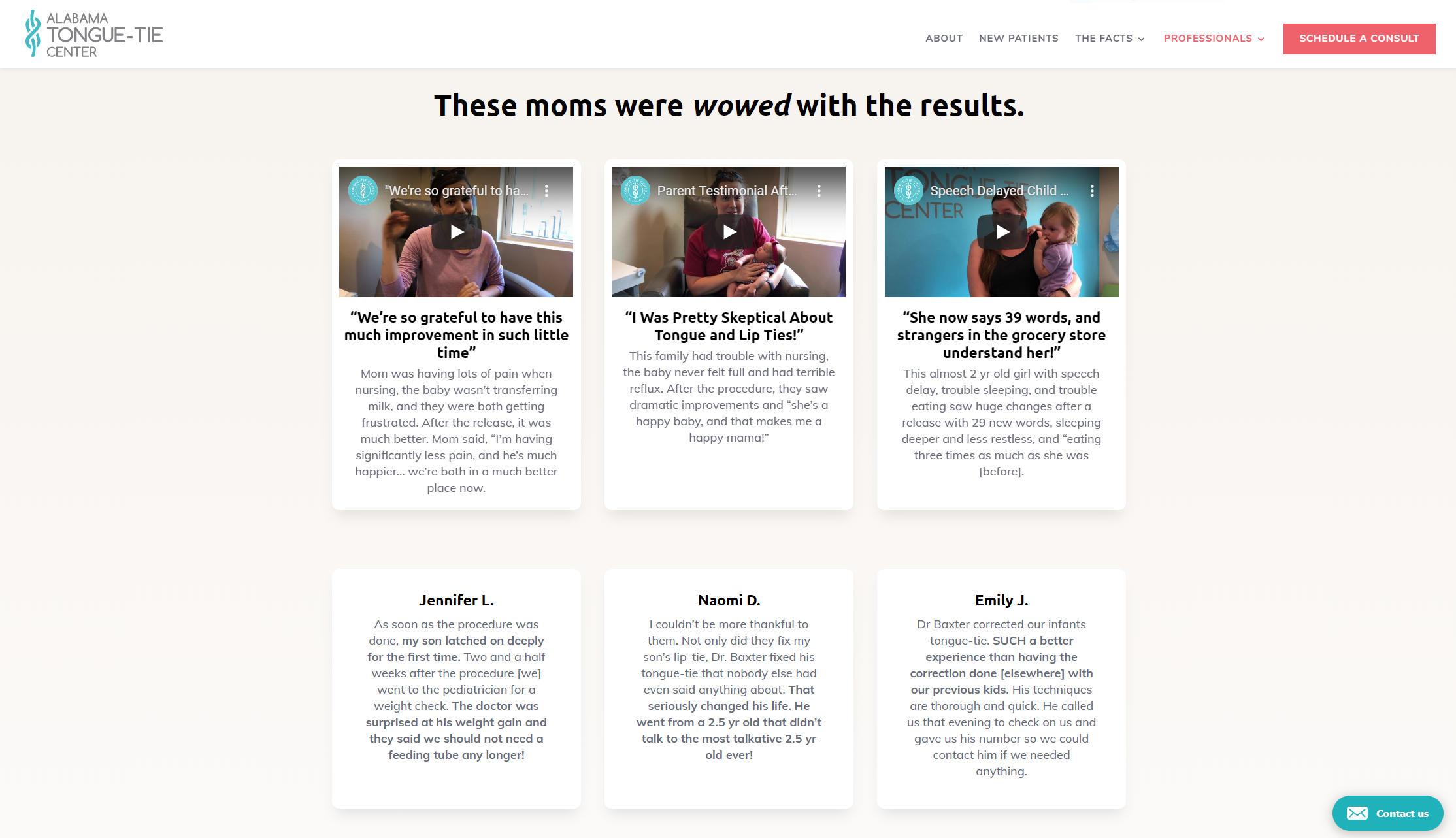 This example comes from the Alabama Tongue-Tie Center. The guide section is meant to show empathy and authority to your target consumer. It's supposed to communicate, "I see you. I understand you. And I can help you".
There are a few ways that you can position yourself as the guide.
Here we see Tongue-Tie highlight several customer testimonials to show both empathy and authority. It's one thing for you yourself to tell customers you can solve their problem. It's an entirely different approach to have past customers or clients speak on your behalf.
Tongue-Tie also uses video to show its customer testimonials.
You don't necessarily have to do this, but it is a nice touch.
The Plan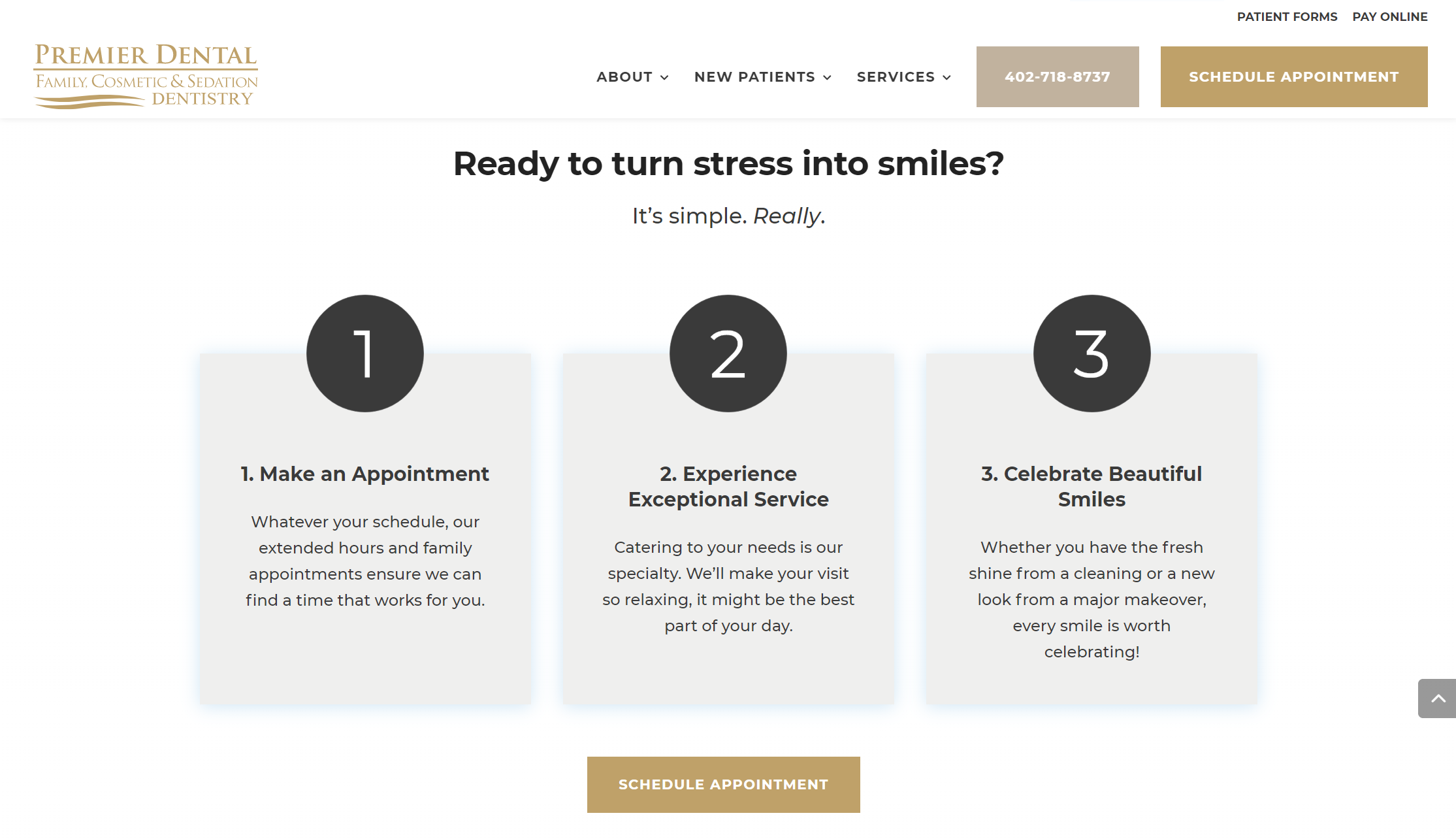 This plan section comes to you from our friends at Premier Dental. The plan section is simple and its meant to show customers how simple it is to do business with you.
You can illustrate your plan in a simple three-step process.
Include icons that either represents the steps or icons of numbers like Premier Dental did. Be sure to also include a short 2-3 sentence description of the step so that customers can know what to expect.
It's as simple as that. Simple. Simple. Simple.
Explanatory Paragraph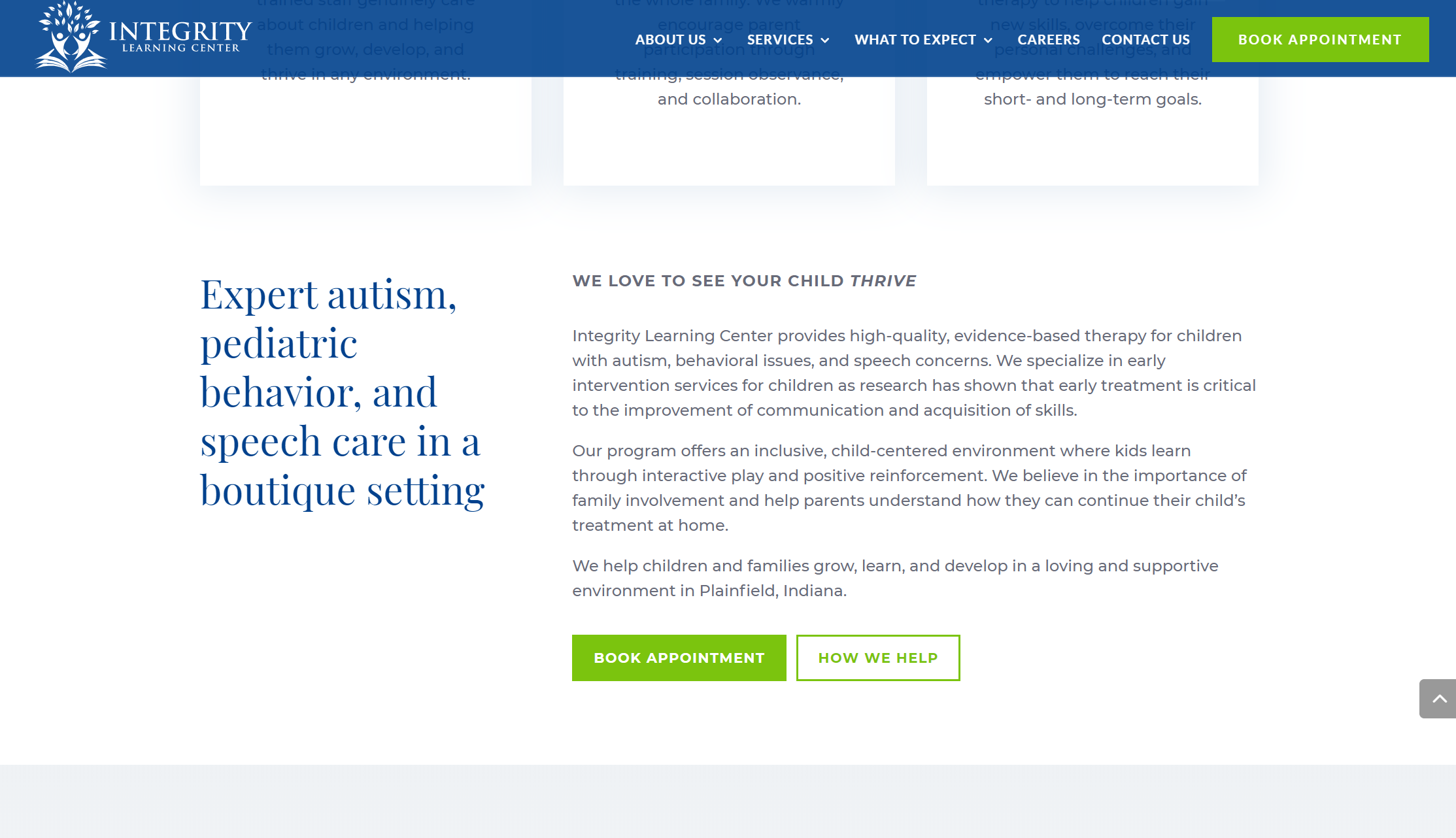 This StoryBrand section comes to us from the Integrity Learning Center. The explanatory paragraph section is where you get to flex some of your SEO muscles and talk a little bit more about yourself. Of course, we still want to be positioned as the guide.
The explanatory paragraph is simply your BrandScript in a longer, written form. You begin your paragraph by telling who you are as a business, what customers you help, what problems they face, and so-on.
The explanatory paragraph is meant to be another "due-diligence" section that interested customers can go to for more information.
Be sure to explain what you do but always have your copywriting be customer-focused.
The Video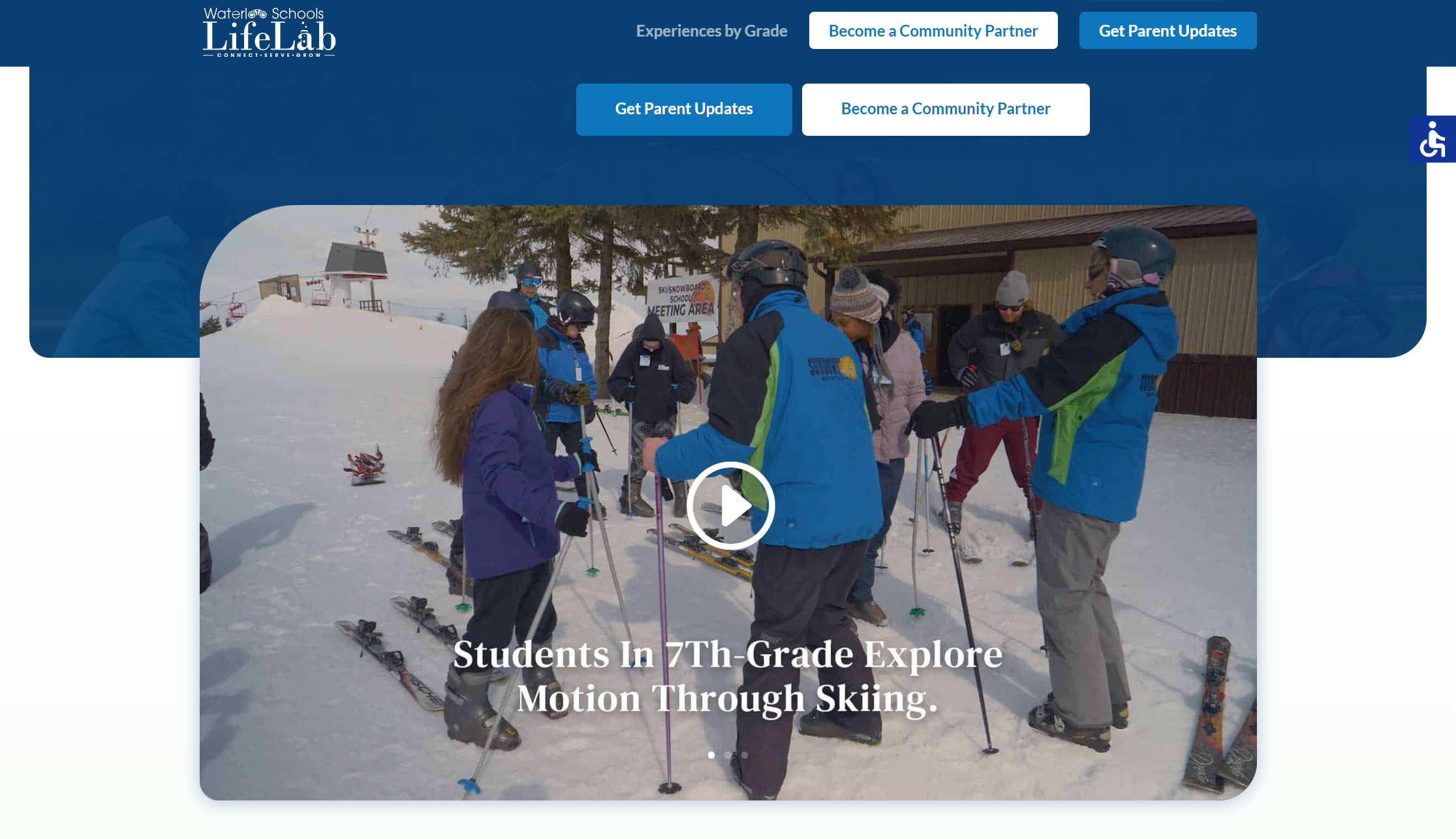 The video section comes to you from Waterloo School Life Lab. Not every site needs a video section, but it does help as the average consumer becomes more video-oriented.
It's also another opportunity for you to show off your business and pitch your value proposition.
Like the explanatory paragraph, the video script can be written based on your BrandScript. It doesn't need to be anything fancy and the video itself could even be a minute long.
Simply having a video allows your customers to engage with your content in a fresh way and it shows to them that you're relevant and invested in technology. Neither aspect will hurt your brand image.
Price Choices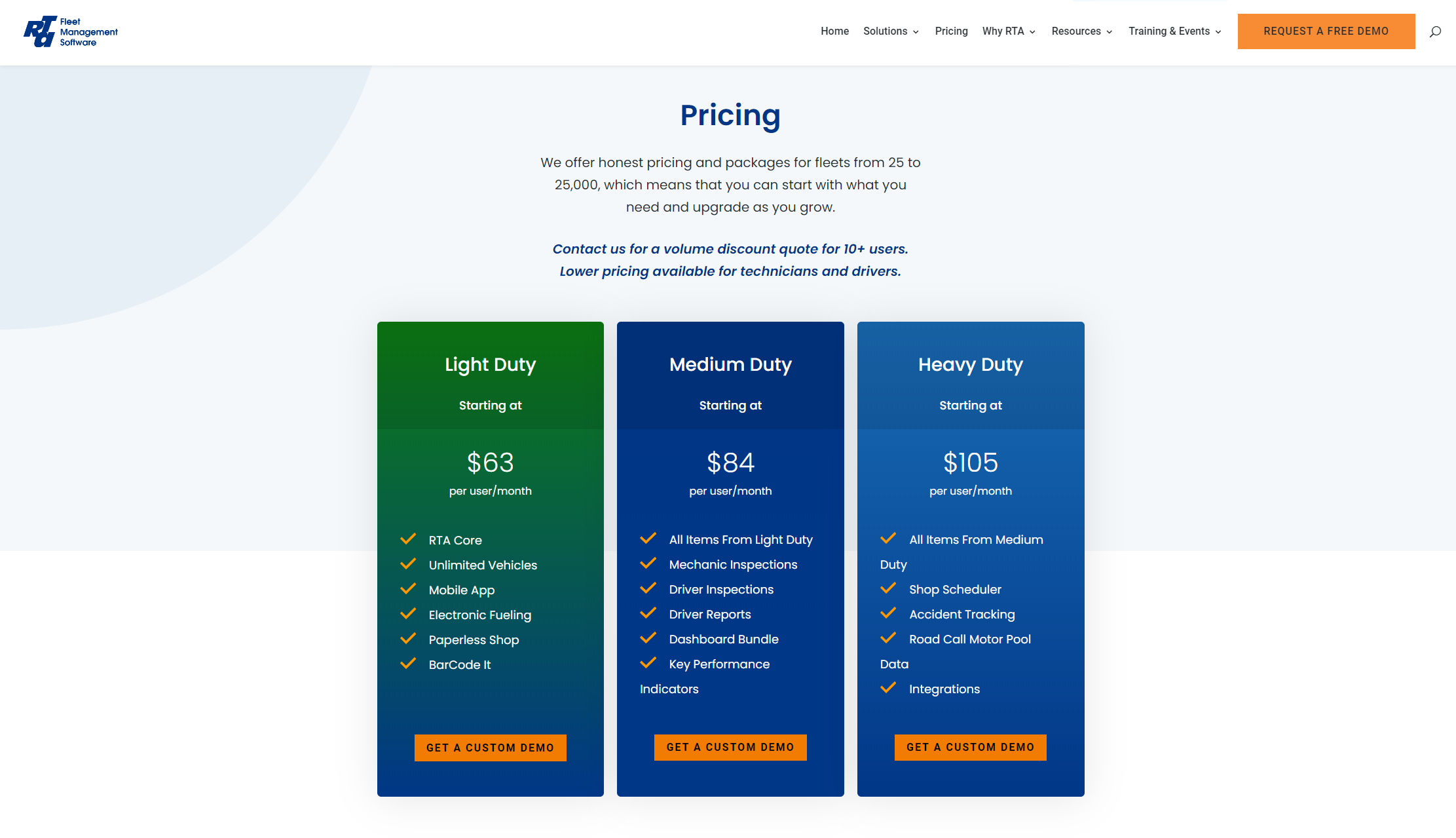 These price choices are brought to you by RTA Fleet Management Software. If your business has multiple product lines and service offerings, then you'll certainly want to include price choices on your home page.
We recommend including three price choices to start off and write some brief copy of what's included in those choices along with a direct call-to-action.
Most customers will opt for the middle-tiered price choice, so be sure to position your most profitable offering in the middle of the price choices.
Lead Generator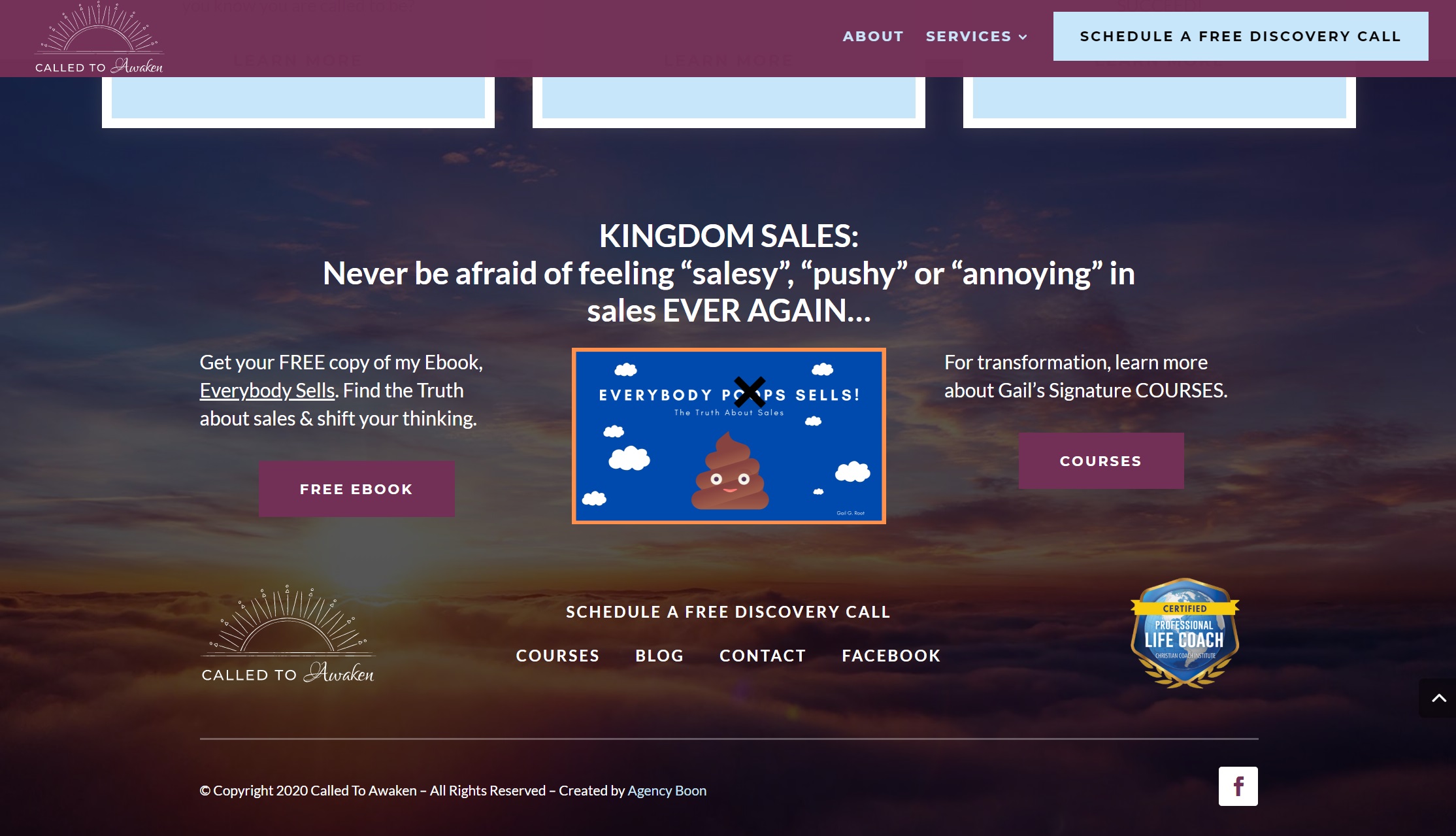 Here we have a lead generator brought to you by Called to Awaken. It's wise to include a lead generator on your home page because many website visitors won't purchase on their first go-round.
This lead generator will need to be featured prominently on your home page and actually be something that your target customer wants. For example, a guide, PDF, or video series will suffice.
The lead generator allows you to capture the email address of an interested prospect and continue to nurture them towards a sale. Losing out on interest prospects is one of the big reasons why so many businesses have dry pipelines.
Don't let that be you.
Junk Drawer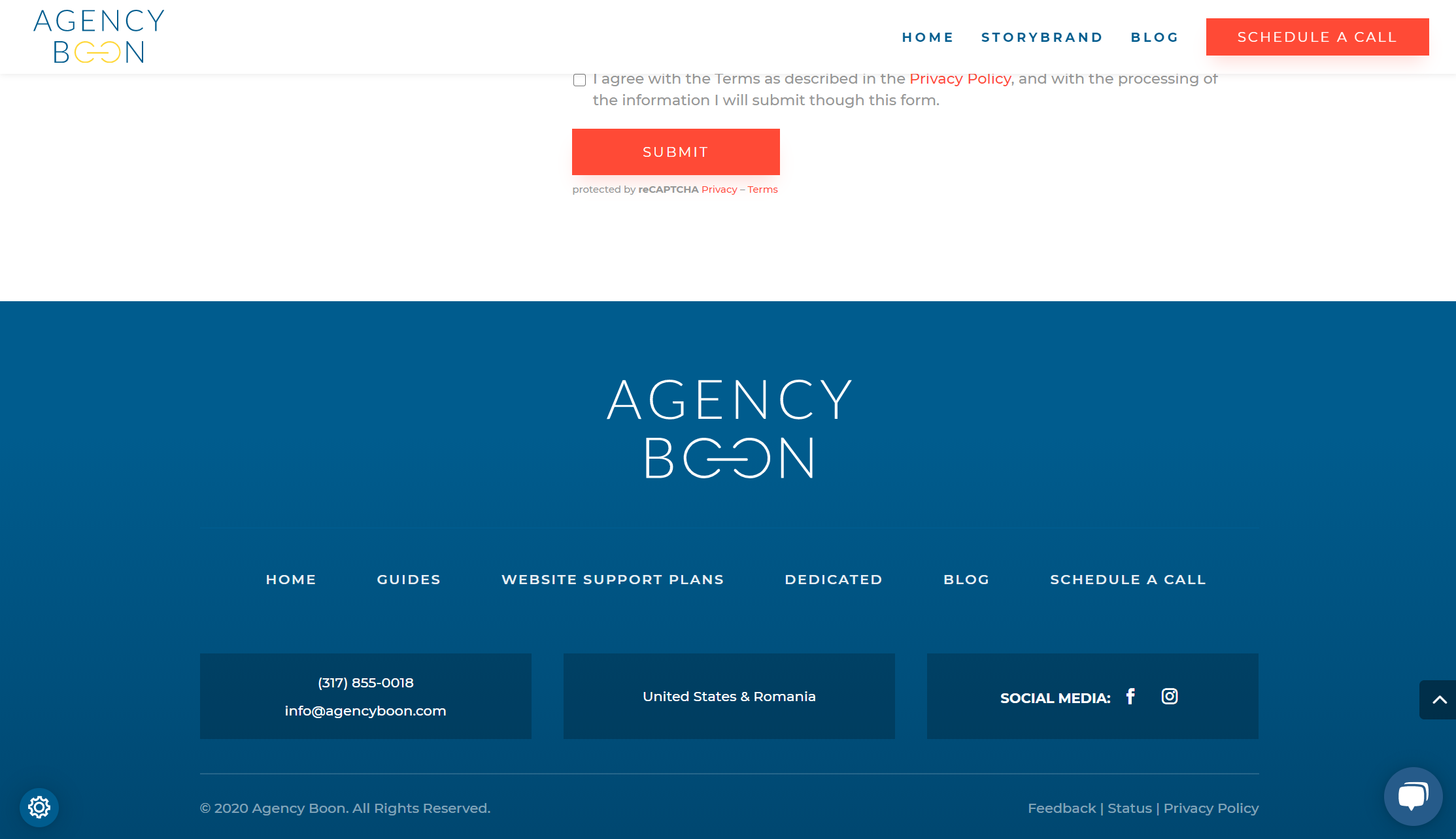 Finally, the last section is the good ole' junk drawer brought to you by yours truly, Agency Boon.
Your junk drawer is going to be linked to everything that you originally thought was important (i.e. your about page, blog page, contact page, etc.).
So, be sure to include all the non-essential links on your navigation bar in the footer (i.e. junk drawer). You'll see an increase in website metrics and your users will thank you.
Conclusion
Those are all the sections of a complete StoryBrand website with several different StoryBrand website examples to boot.
If you need help implementing this framework on your site, be sure to get in touch with us. We have not one but two StoryBrand Certified Guides on our team who love bringing this framework to life.
Here's to your continued success.