Often, small business owners reach out to us because they've reached a plateau and are looking to keep growing, like Amy, who is now on track to double her revenue after working with Agency Boon. However, another great time to get clear messaging and an amazing website is when you are in the midst of a rebrand. Matt wanted to pivot his existing business and chose to rebrand well by collaborating with Agency Boon. Together we crafted a solid brand message and a website created to convert so that he could pivot with confidence.
Clear Messaging Helped Matt Showcase His Clear Solution
Matt had been working as a physical therapist since 1993. He founded STAR Physical Therapy and grew his practice to include eight different clinics. He discovered that his biggest business obstacle wasn't actually physical therapy related; it was insurance and billing. He created, and then perfected, a billing system that uses state-of-the-art software and the very best practices to ensure that practitioners always get paid. His process was working so well for his own business that he shifted his focus to helping other physical therapy practices thrive using the same system. 
When we met Matt, he had been running STAR Management Company for two years. STAR Management offered a variety of services: marketing funnels, one-on-one coaching, billing, new clinic development, and more. 
The business had grown to the point where they needed to scale down the number of services they offered. Matt created PT Pilot Billing to provide strictly billing and revenue cycle management services. During the rebranding process, a friend told him about StoryBrand, and Matt was intrigued. He knew what he wanted to accomplish with PT Pilot Billing, but he knew his brand message wasn't as clear as he needed it to be to rebrand well. 
He decided to schedule a Discovery Call with Ryan, the founder of Agency Boon and a StoryBrand Certified Guide. After his discussions with Ryan, Matt was sure that Agency Boon could deliver the high-quality results and clarity he was looking for.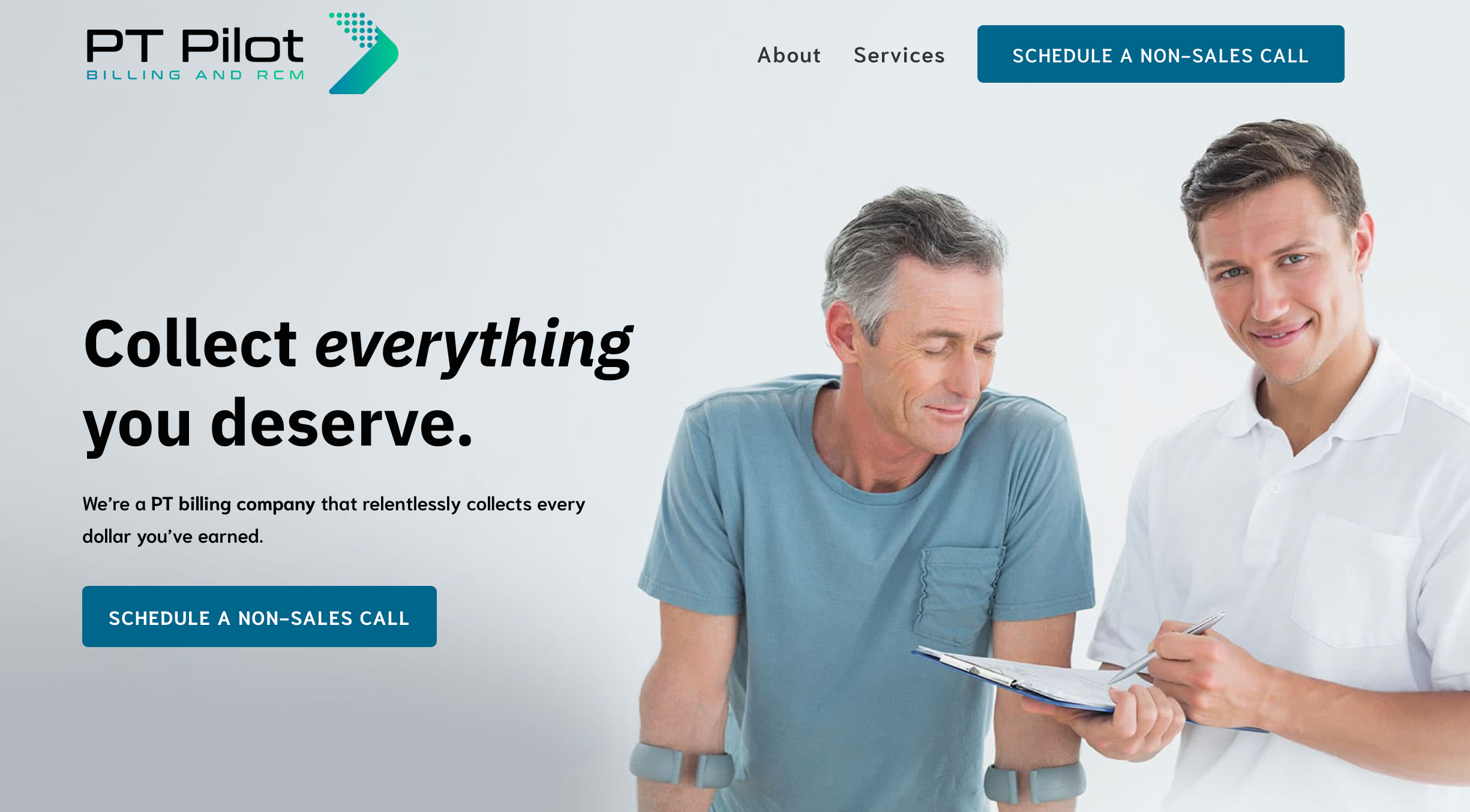 An Inside Look at Working with Agency Boon
After Matt chose to hire Agency Boon to help him clarify his messaging and create his website, we started off by having a 45-minute conversation about his business, ideal customer, goals, and vision. Then, our team got to work using that information to create a BrandScript. 
The StoryBrand BrandScript provides a clear description of your business and the story, or transformation, you are inviting your ideal customer into. A BrandScript portrays exactly how your product or service will help clients survive and thrive by solving their problems. 
For Matt, the process of creating a BrandScript brought him the clear direction he needed to pivot from STAR Management to PT Pilot Billing without creating confusion for his existing customers. 
For us, a BrandScript is the essential first step for all clients. Clear business messaging gives us the information we need to create effective business marketing. 
After we created the StoryBrand BrandScript, our team began to lay out Matt's website. We started by writing clear, compelling website copy that draws ideal clients into the story and leads them to take action. 
We always collaborate with business owners along the way to ensure that their marketing materials tell their brand's story exactly the way they want. Our clients have consistent access to our team through the Basecamp app so that they can provide feedback. Our team then quickly and efficiently makes necessary edits and updates. Once Matt was happy with the language on his website, we began the design process. 
In order to provide exceptional quality to all of our clients, we work with a team of professional writers, graphic designers, and StoryBrand marketing experts. This allows everyone to work from their strengths and provide the highest quality end product.
After about twelve weeks, the website was ready for Matt to introduce PT Pilot Billing to the world. He was very pleased with the results and high-quality work. 
He said, "Agency Boon does excellent work. Not just in website design, but also in business consultation and coaching." 
He came into the process hoping for a clear message and a website. He walked away with not only that, but a clear direction for his business. 
At Agency Boon, we want to do more than just help you finish the project at hand. We want to ensure that you are set up for success and growth in your business. We always weave marketing advice and coaching into our conversations with clients to ensure that they have the tools they need to succeed. 
Matt & His Clients Are Growing
Now, Matt and his team already have all the clients PT Pilot Billing can take on. The physical therapy practices they work with to manage their billing continue to grow as a result of their partnership. 
Matt is grateful that clear messaging and a great website paved the way for a successful rebrand. He and his team can now enjoy helping physical therapy practitioners get paid what they deserve so that the practitioners can dedicate their time to their work. 
Do you want to rebrand well?
Whether you are rebranding your business, like Matt, or looking to grow, like Amy, Agency Boon can help you clarify your messaging so that you can attract the right clients. Contact us today to speak with one of our Certified StoryBrand Guides to determine the best next steps for you.